"The Greater Bay Area (GBA) aims to 'grow the pie' through economic integration of Guangdong cities as well as Hong Kong and Macao Special Administrative Regions (SAR), which will inject new vitality into regional development," said Woo Su-keun, President of the Korea-China Global Association in Seoul. "The GBA is well positioned to be one of the most developed regions in China."
Woo Su-keun. (Photo provided to GDToday)
Woo obtained his doctorate degree from East China Normal University in China's Shanghai and has worked as a teacher in the country for 13 years. From 2004 to 2017, he traveled around China. "Shenzhen or Guangdong province in general has its distinct characteristics compared with other parts of China. I remember Shenzhen was as vibrant as the 'city of the future'," Woo recalled.
In Woo's view, the fast development of Guangdong, the largest province of China by GDP, is an "amazing but never surprising" achievement, produced by its geographic advantage and the extraordinary openness and tolerance of the people who have inhabited it. "Neighboring Hong Kong SAR and Macao SAR, Guangdong is in the front line of China's reform and opening-up. Since 1979, it has strengthened economic exchanges with more than 150 countries and regions," Woo said.
With the development of the GBA, Woo believes a synergy is being created between Guangdong and the two SARs to facilitate innovation and economic growth.
"Hong Kong and Macao can leverage their comparative advantages in fundamental research, global finance, business and talent pool through the cooperation with Guangdong. At the same time, Guangdong can make full use of its well-established manufacturing supply chain, strong industry clusters and the development of key technologies," Woo elaborated.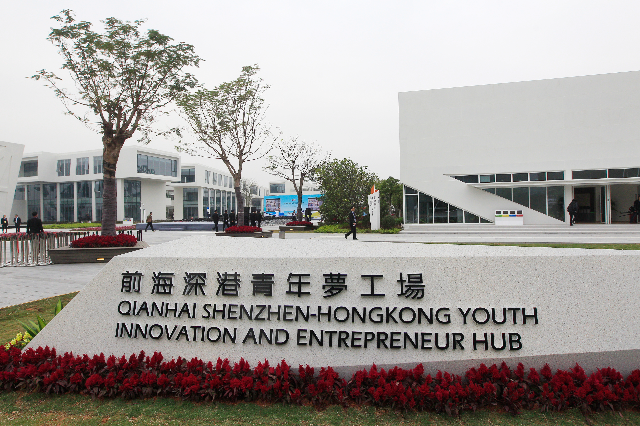 The Qianhai Shenzhen-Hong Kong Youth Innovation and Entrepreneur Hub. (Photo: Nanfang Daily)
Woo has observed that in recent years, his friends in Hong Kong have expanded their businesses to other GBA cities, including Guangzhou, Shenzhen and Zhuhai. "This is inevitable. The huge Chinese market is attractive to young businessmen all over the world who have dreams and ambition," Woo furthered, "More and more young people from Hong Kong and Macao are pursuing their career in Guangdong. Market-friendly policies are made and start-up incubators are established in the province to support these young entrepreneurs."
"For South Korean companies, the room for cooperation with the GBA will be much larger, on the basis of the existing economic partnership with the three regions respectively," Woo said. He noted integrated circuit design, packaging, and testing, as well as display manufacturing are the fields where the GBA and Republic of Korea can further cooperate.
"If there is one regret, it is that I should have traveled more to GBA cities when I was in China. In that way, I can share my experiences in different parts of the Area and convey its charm to our society more vividly. I hope to do more of that in the future," Woo said.
Co-presented by GDToday and Nanfang Daily
Authors | Luo Xiaohua, Gong Chunhui, Wu Yi (intern), Lydia Liu, Joshua (intern)
Poster designers | Zhang Zhe, Liu Zikui, Gan Zhanping
Editors | Wing, Olivia, Jasmine, Jerry
Guangdong People's Association for Friendship with Foreign Countries contributed to the article.