09/21/2022 Source: newsgd.com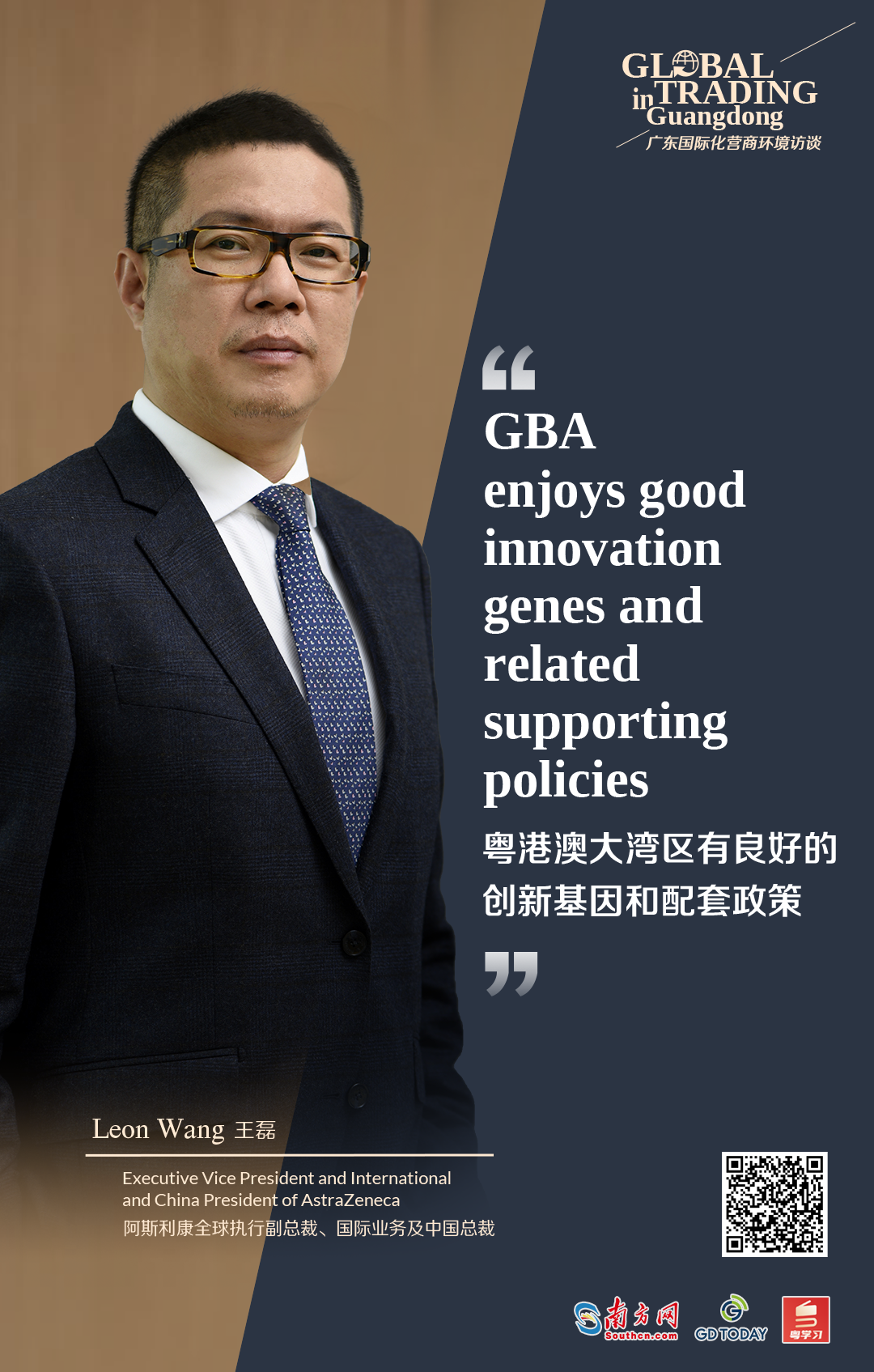 "The Guangdong-Hong Kong-Macao Greater Bay Area (GBA) has good innovation genes and related supporting policies, providing us a good platform for model innovation, industrial investment as well as achievement transformation," said Leon Wang, Executive Vice President, International and China President of AstraZeneca, a Fortune 500 Company, when having an exclusive interview with GDToday recently.
The cooperation between AstraZeneca and Guangdong began in October 2020. AstraZeneca signed an investment cooperation agreement with Guangzhou, announcing it would set up its Southern China Headquarters on Guangzhou International Bio Island.
AstraZeneca Southern China headquarters officially started to operate last month, and now Wang has expected more. "We hope our latest drugs can be used in Guangzhou and GBA. Also, we hope to research more new drugs in Guangzhou and export them to ASEAN countries and even worldwide," said Wong confidently.
AstraZeneca Southern China Headquarters is located in Guangzhou International Bio Island. (Provided to Newsgd.com)
Build a biopharmaceutical industry ecosystem in Guangzhou
As one of the eight medical centers in China, Guangzhou boasts an excellent R&D environment and leads the world in many medical fields. According to Wang, these advantages have attracted a host of biopharmaceutical companies to operate in Guangzhou, and the formation of industrial clusters further enhances the city's attractiveness.
Meanwhile, Guangzhou's excellent business environment also impressed Wang. "Guangzhou has established a special working group for the biopharmaceutical industrial chain, realizing in-depth government-enterprise exchanges," said Wang.
According to Wang, AstraZeneca plans to build an industrial ecosystem in Guangzhou together with local partners, including establishing a Bio-Diagnostic Innovation Center on the International Bio Island to attract more diagnostic companies to Guangzhou.
Wang added that the company will also cooperate with Guangzhou International Bio Island to build Guangzhou International Science and Technology Innovation Hub, trying to create a leading regional one-stop incubation platform.
Explore the GBA market by using innovative supporting policies
Wang also said that the GBA provides an excellent innovation environment and supporting policies. With the support of innovation policies such as the "Hong Kong and Macao Medicine and Equipment Connect" policy, AstraZeneca can pilot numerous innovative drugs in the GBA, benefiting Chinese patients at a tremendous pace.
For example, Fasenra (benralizumab), a new anti-inflammatory drug for treating patients with severe eosinophilic asthma (SEA), was approved in May this year for urgent rescue therapy in designated medical institutions in the nine cities of the GBA. AstraZeneca has also promoted the pilot of several orphan drugs in this area.
Wang also expressed his interest in Nansha of Guangzhou. This June, the State Council issued an overall plan to promote comprehensive cooperation among Guangdong, Hong Kong, and Macao by further deepening the Nansha district's opening.
"AstraZeneca looks forward to leveraging Nansha's location advantages and talent policies to attract more quality medical resources and talents from Hong Kong and Macao, to realize collaborative innovation and continuous expansion of AstraZeneca's pharmaceutical innovation ecosystem," said Wang.
Reported by Nan & Lynette (Intern)
Edited by Wing, Olivia & Jerry