11/16/2023 Source: newsgd.com
"'Industry's Going Upstairs' is not only an important development pattern for Shenzhen to adjust its industrial structure but also to promote industrial transformation and upgrading. It could also improve industry value added and economic efficiency," Lim Hong Kian, Chief Executive Officer of Surbana Jurong North Asia, told GDToday in a recent interview. Headquartered in Singapore and wholly owned by Temasek Holdings, Surbana Jurong Group is a consultancy company focusing on infrastructure and urban development.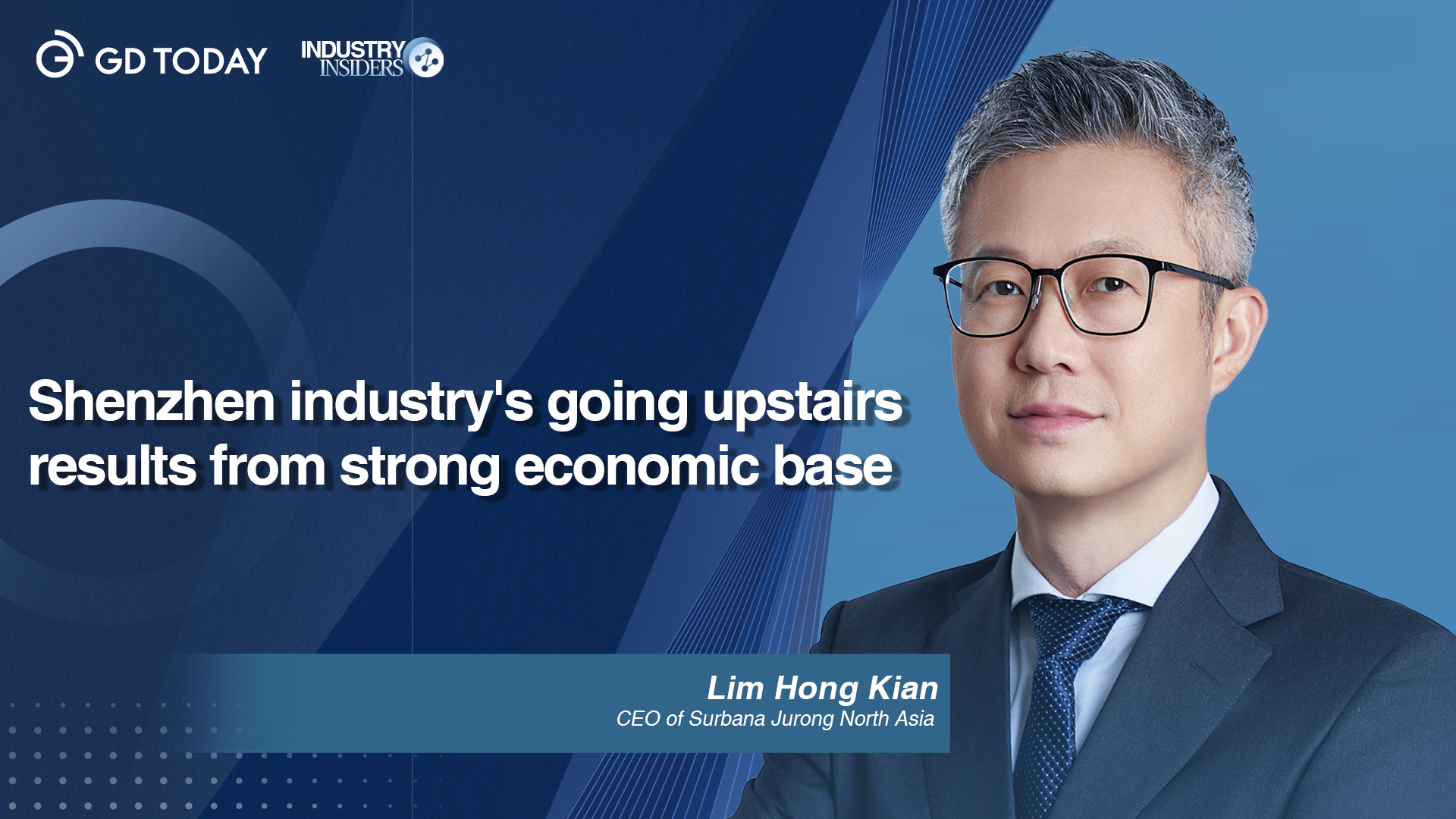 The concept of "Industry's Going Upstairs (IGU)" represents a usage of industrial land that transfers the enterprises' production to high-rise industrial buildings. As the Shenzhen Pingshan New Energy Automobile Industrial Park Project has recently completed construction and started operation, "Industry's Going Upstairs" attracts public attention. The project builds freight corridors inside the buildings while minivans can take the elevator upstairs to deliver goods.
Lim elaborated that Shenzhen leads in developing "Industry's Going Upstairs" with its human resources and innovative technologies. The city has also boosted industrial agglomeration, industrial upgrading of intelligence manufacturing, and improved enterprises' competitiveness by promoting "Industry's Going Upstairs".
In 2019, the Shenzhen Baoan District issued Guidelines for Industry's Going Upstairs in the Baoan District, Shenzhen (Trial), providing design standards and operating guidelines for "Industry's Going Upstairs". The Guidelines define "Industry's Going Upstairs" buildings as high-rise factories with a height of more than 24 m and not more than 100 m. According to the Guidelines, strategic emerging industries such as new-generation information technology, high-end equipment manufacturing, green industry, biomedicine, new materials, and marine economy are prioritized to be developed in the "Industry's Going Upstairs" project.
Quanzhi Science and Technology Innovation Park, the first "Industry's Going Upstairs" project in China, has an area of about 168 thousand square meters for operation on land, covering an area of 30 thousand square meters. In 2022, more than 120 sci-tech enterprises have settled in the park, with an occupancy rate of 95 percent. And the total output value of enterprises in the park reached 3.5 billion RMB, 29 times that of 10 years ago.
"During the 1970s to 1980s in Singapore, the development of industrial upgrading drove the transformation of labor-intensive and high-tech industries," said Lim. He indicated the current situation in Shenzhen is similar to Singapore at that time. Thus, he proposed suggestions for Shenzhen, comparing the practice of "Industry's Going Upstairs" in Shenzhen and the practice of ramp-up factories in Singapore.
Lim pointed out that the fact that "Industry's Going Upstairs" is thriving in Shenzhen results from its economic foundation. He noted that Shenzhen's economic strength is outstanding in the Guangdong-Hong Kong-Macao Greater Bay Area. In 2022, Shenzhen's GDP reached 3238.8 billion RMB. The secondary and tertiary industries dominate Shenzhen's industrial structure, while the high-tech, cultural, financial, and logistics industries are the four pillar industries in Shenzhen.
The demands of industrial space have been changed in the Industry 4.0 Era. With the increasing popularity of multi-variety and small-batch customized production, the development of industries now requires space in the city center without necessarily expanding in physical size. "Innovative resources such as high-quality talents, transportation hubs, and advanced information infrastructure are more important for manufacturing space in the Industry 4.0 Era," said Lim.
Lim took the Jurong Innovation District (JID) in Singapore as an example, which is considered a case of Industry 4.0. According to Lim, an industrial park could drive innovation in the industrial sector and enhance the mobility of goods and people. By leveraging advanced manufacturing technology, it can also help in creating community infrastructure.
When completed, there will be an underground district logistics network enhancing the efficiency of freight movement in JID, an 11 km-long Sky Corridor connecting the whole district, smart manufacturing, driverless bus rides, and lush greenery and biodiversity within the urban environment.
"In this case, the efficiency of production and industrial connectivity is maximized in the Jurong Innovation District," said Lim. He suggested that Shenzhen pay more attention to the design of the whole environment where Industry 4.0 enterprises are located in the Industry's Going Upstairs projects.
In addition, Lim pointed out the potential problem of environmental pollution as the Industry's Going Upstairs projects bring factories into urban areas, which requires the enhancement of basic technology.
"In the future, we should put more effort into the urban sustainable development since we have constructed advanced facilities in these industrial parks," said Lim. He added that enterprises could use green energy and reduce energy consumption while construction materials should also have low carbon emissions.
Author丨Nina
Editor丨Olivia, Nan, Jasmine, James