859 cooperation projects were signed at the 2023 Global Investment Conference for the Guangdong-Hong Kong-Macao Greater Bay Area (GBA) on November 8, with a total investment of over 2.24 trillion RMB.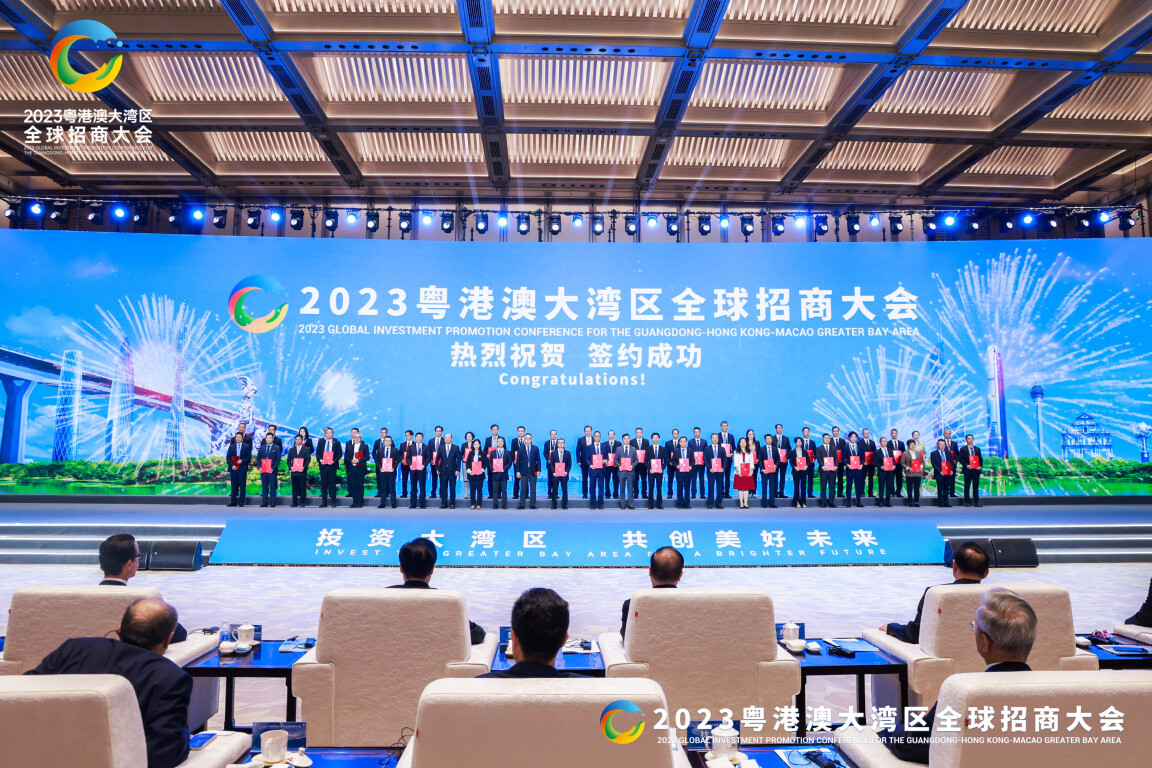 The Conference has attracted an abundance of Global 500 companies, including Pfizer, Siemens Energy AG, Carlsberg Group, Amway, PepsiCo, and Hyundai Motor Group, which are in advanced manufacturing, biotechnology, new energy, and other industries.
The Conference was held online and offline in Guangzhou, Hong Kong, and Macao for the second time. Top leaders from Guangdong Province, and Hong Kong and Macao SARs participated in the Conference.
Welcome global investors, entrepreneurs, and various talents to GBA
Huang Kunming, Secretary of CPC Guangdong Provincial Committee, addressed that the GBA enjoys vast development space and broad prospects. With accelerated technological innovation and industrial upgrading, new high-quality production forces are being fostered, and the vast market contains even more excellent opportunities.
Wang Weizhong, Governor of the People's Government of Guangdong Province, when delivering the keynote speech, extended his warm welcome to global investors, entrepreneurs, and various talents, indicating the GBA has created new substantial business opportunities for domestic and foreign companies and is an essential destination for investment and layout, as well as a critical base for global operations.
Before the Conference, eight departments of the Guangdong Provincial government, the Commerce and Economic Development Bureau of the HKSAR, and the Macao Trade and Investment Promotion Institute, as well as 9 PRD cities, briefed the latest investment policies.
Zhang Jinsong, Director General of the Department of Commerce of Guangdong Province, introduced that Guangdong aims to develop a high-level headquarters economy by attracting more multinationals to set up global, regional, and functional headquarters in Guangdong. Also, the province has set plans to improve and expand the existing eight trillion yuan-level industrial clusters and ten hundred billion yuan-level industrial clusters, further enhancing the utilization of foreign investment in Guangdong's manufacturing industry.
Zhu Wei, Deputy Director-General of the Guangdong Provincial Development and Reform Commission, emphasizes Hengqin, Qianhai, Nansha, and Hetao. In the future, the four platforms will serve as demonstration areas for deepening integration and development among Guangdong, Hong Kong, and Macao, providing a better policy environment, more development opportunities, and more fantastic development space for enterprises.
Multinationals show enthusiasm about participating in the GBA
When talking about Guangdong's business environment, participants gave a thumbs up for the outstanding efforts that the GBA has made during past years, showing enthusiasm about participating in the GBA and achieving a win-win situation.
When making the speech at the Conference, Karim Amin, a Member of the Executive Board of Siemens Energy AG, praised Guangdong's inclusiveness. He was impressed by the policies formulated to improve the business environment and the regular roundtables held to listen to their voices and help with their pain points. "These are the sources of our confidence in GBA and China." Last December, his company announced the establishment of a subsidiary in Shenzhen at the 2022 Global Investment Promotion Conference for the Guangdong-Hong Kong-Macao Greater Bay Area.
Jacob Aarup-Andersen, Carlsberg Group CEO, stressed that his company is now in the middle of a 3 billion RMB investment in building a globally state-of-the-art brewery in Foshan, which will open in the second quarter of next year. "It's a state-of-the-art brewery with the best equipment and processes, and also the first big research and development center outside of Europe."
Jean-Christophe Pointeau, Pfizer China President, said, "I'm here actually because we are extremely curious and extremely motivated by the GBA opportunity." He highlighted the GBA with outstanding universities, academicians, big hospitals, digital technology, the pharmaceutical industry, and the support from the government. "all these ingredients are essential for us to establish and present in the GBA."
Kim Ihn Kee, Vice president of HTWO Guangzhou, told GDToday that his company is seeking all cooperation opportunities with outstanding enterprises in the hydrogen energy industry chain and jointly promoting innovation and development of new energy vehicles and new energy industries in the GBA.
According to the Department of Commerce of Guangdong, 853 cooperation projects were signed last year, with a total investment of over 2.5 trillion RMB. As of the end of October, 638 out of 814 investment projects had started construction, and among them, 163 out of 200 foreign investment projects had begun building.
Reporters: Hu Nan, Wang Fengping, Li Qiaoxin, Qin Shaolong, Guan Jieming
Editors: Olivia & James
Photos provided to GDToday