Editor's Note: Guangdong recently awarded the "Guangdong Friendship Award" to 49 foreign friends from 23 countries, acknowledging those who have made outstanding contributions to Guangdong's economic and social development, as well as international exchanges. GDToday presents Friends' Talk and shares the award winners' stories with Guangdong.
On March 2, in a ward at Shenzhen Children's Hospital, David P. Roye Jr. from the United States was conducting a preoperative examination for a child who was preparing to undergo an ankle surgery. After the examination, David P. Roye Jr. helped the child put on socks, spoke softly to comfort the child, and helped the little child get rid of nervousness before surgery.
As a world-renowned pediatric orthopedic expert, Roye founded the International Healthcare Leadership (IHL), which has trained over three hundred Chinese clinical doctors and provided treatment to over one thousand Chinese children with illnesses all at no cost. In his eyes, receiving the "Guangdong Friendship Award" is recognition of his years of medical career in China.
He told GDToday in a recent interview, "It gives me more ambition to improve teaching management and health care policy across the country".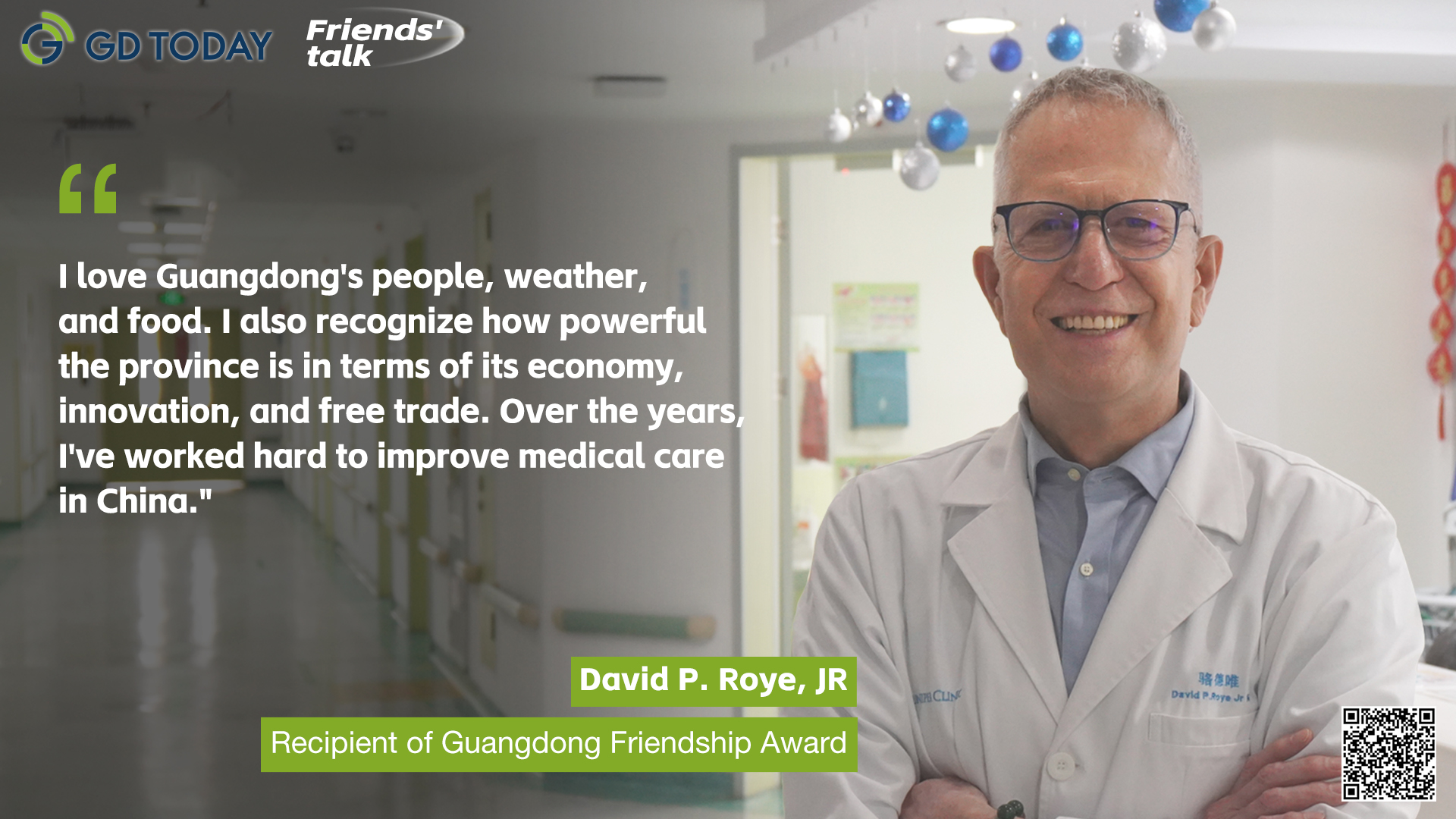 Duty in China, Passion in Guangdong
In 1997, Roye came to Harbin, which was his first time to set foot in China. When he was performing surgery on a child in a small hospital in Harbin, due to lack of equipment, the child had a seizure after the operation. He had to take him in a small car to a better-equipped hospital for further treatment.
Although the surgery was ultimately successful, this incident lingered in Roye's heart, an idea came to his mind that he wanted to devote himself to China's healthcare. "It's just part of the duty of someone who has that advantage and that training. You need to share it. You need to do everything you can to improve the situation. Be it taking care of individual children, educating the physician or offering opportunities for improving management and health care policy," he said.
In the past 24 years, he has visited China 80 times and performed over 500 charity surgeries. In 2020, when people thought that Roye was ready to start his retirement life, he unexpectedly chose to settle in Guangzhou. One year later, Roye signed a contract with Shenzhen Children's Hospital. "I opened a clinic in Guangdong and to continue my efforts to educate hundreds of Chinese physicians." He elaborated, "I love the people, I love the weather, I love the food. But I also recognize how powerful the province is in terms of its economy."
Roye has a strong passion for Guangdong's openness and entrepreneurship. He likes hard work and innovation that Guangdong people possess, and believes that this imbues the land with a unique character, which deeply attracted him. "To accomplish my goal to teach as many people as possible, to treat as many children in the most expert way as possible, to have as much impact with health care leadership as possible. In that way, I am an entrepreneur. "He said.
During these years in China, he has witnessed the increasing popularity of advanced medical equipment in hospitals, and also seen more and more young doctors stand on the front line of medical care. "We have ICU doctors, we have ventilators, we have everything we need to take care of children. And those improvements have occurred in like a second." He noted.
China shares development fruits globally via the Belt and Road Initiative
2023 marks the tenth anniversary of China's proposal of the Belt and Road Initiative (BRI). Over the past decade, BRI has become a popular international platform for international cooperation, covering two-thirds of the world's countries (regions) and one-third of international organizations.
Roye recalled that his journey in Kenya in 1983, where he provided medical services in a foreign country outside the United States for the first time. When he saw the underdeveloped infrastructure and shortage of medical supplies, he had mixed feelings at that time. Now, China is assisting Kenya in promoting infrastructure construction through the BRI, and more and more young Kenyans are coming to China for study.
Roye highly appreciates the concept of common development advocated by the BRI, noting "And that means looking outward, looking globally, in my opinion, an important part of the future development of China."
Roye firstly learned about the BRI from his Chinese colleagues. Afterwards, he was surprised to find that many students had participated in medical aid projects in countries along the Belt and Road, saying, "Many of my Chinese colleagues, Chinese physicians are volunteering and going across the world to provide education and health care access to other global communities. I'd be happy to be a part of the "Belt and Road" to go out and to volunteer with my Chinese colleagues."
In Roye's view, China will pass on the hope of development to the world, and let the world share in the fruits of China's development. This is the concept of a human community with a shared future, proposed by China. "And I think We are not isolated, we are part of a global community and that we have a duty to help that community," Roye stressed.
Guangdong advances high-quality development through high-level opening up
At the beginning of this year, Guangdong held a High Quality Development Conference, emphasizing the importance of scientific and technological innovation. New development means new opportunities and challenges.
Roye is full of confidence in Guangdong's goal of achieving high-quality development. "I see what the infrastructure that Guangdong has established in the Greater Bay Area which as meant to the economy is just huge." He marked.
According to Roye, Guangdong's advantage is not only in its well-developed infrastructure, but also in its adherence to opening up to the outside world and continuous exploration." I love the innovation and the inventiveness and the purposefulness of the people of Guangdong. And I think that they will succeed. These are the elements I think that will go in toward creating a vibrant future for Guangdong province."
When it comes to the high quality development in his field, Roye concluded, "improving medical care is being a way of improving the economy, right? Because if the population is healthy then the economy can be healthy. So that's my connection."
Reporter | Hannah, Steven, Li Fuying (intern)
Script | Hannah, Li Fuying (intern)
Video | Axin
Editor | Wing, Jasmine, Jerry