02/27/2023 Source: newsgd.com
"Culture and commerce are complementary, since culture can boost trade exchanges and in return the economic development will promote cultural exchanges. It brings a good development," said Allan Rong, President of Guangdong Donghu Boardgame Academy, when sharing with GDToday before the Overseas Chinese Entrepreneurs Investment (Guangdong) Conference (February 24 to 25).
As leaders of overseas Chinese, they should spread the excellent traditional culture overseas, which helps more overseas Chinese entrepreneurs to know the latest developments in China, and attract them to visit the country, said Rong.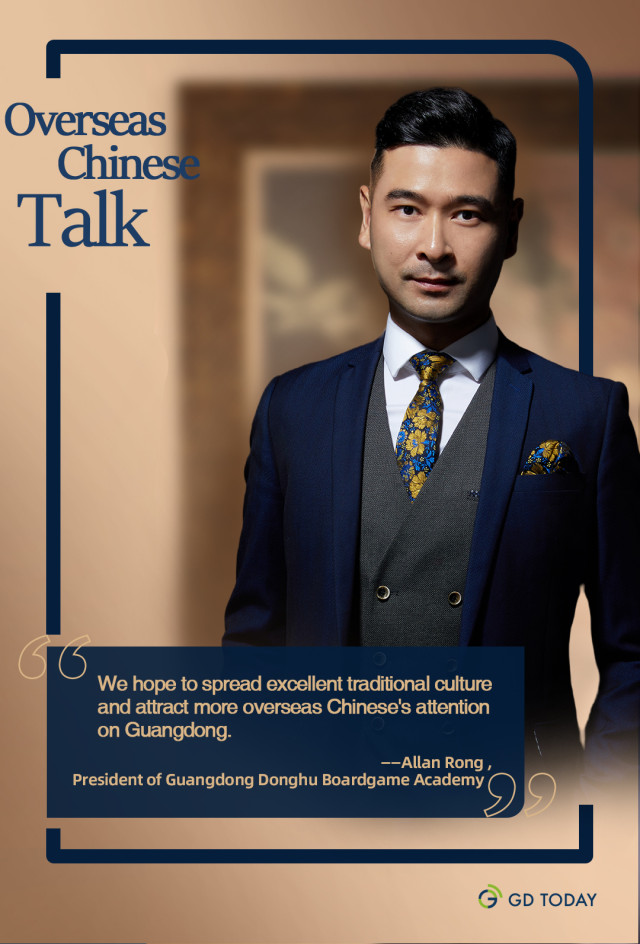 Influenced by his father Rong Jianxing (the former first vice president of the Asian Chess Federation and the former vice president of the Chinese Go Association), Allan Rong had been familiar with chess and Chinese go since he was a child.
In 1998, Rong went to Australia to study, later in 2010, he returned to China to take over the boardgame academy from his family, hoping to better promote China's time-honored chess culture at home and abroad.
When Rong was back, he kept carrying out cultural exchanges in many countries, and introduced the latest policies and development of Guangdong to overseas Chinese businessmen and enterprises.
Rong thought China has been thinking more highly of the overseas entrepreneurs' role since the construction of the Guangdong-Hong Kong-Macao Greater Bay Area (GBA), Shenzhen Pilot Demonstration Area of Socialism with Chinese Characteristics and the three major development platforms in Hengqin, Qianhai and Nansha.
"During the Spring Festival this year, I also traveled around Southeast Asian countries to promote the (development opportunities) of the GBA, especially Nansha, to local authorities and the Chamber of Commerce of Overseas Chinese. They expressed a strong desire to visit Guangdong, and welcomed the province's business delegation to have exchanges," said Rong.
Rong is making using of his overseas resources to serve the business in China, and plans to invest more in Guangzhou, while Nansha will take most of the investment. Because the area's policies such as bonded areas and preferential taxes provide great convenience for Rong to conduct trade or financial futures.
"Guangdong's high-quality development brings good opportunities for overseas Chinese entrepreneurs. The increasingly wide connection of resources at home and abroad not only benefit overseas Chinese entrepreneurs, but also helps those overseas resources contribute to GBA's development," Rong added.
Chinese reporter: Chen Chen
English reporter: Will
Editor: Wing, Nan, Jerry