With the theme "Recover Together, Recover Stronger", the 17th Group of 20 (G20) Summit kicked off in Bali on November 15. Issues pertaining to world economic recovery, world health systems and climate change take the center stage.
In a recent interview with GDToday, Ben Perkasa Drajat, Consul General of Indonesia in Guangzhou, elaborated that the theme carries the spirit of multilateralism and now, every country should work together through multilateral platforms to promote trade, restore global supply chains, and recover economy or make it even stronger than before.
Encouraging investment, increasing global trade flows essential to global economy
As the world is facing multiple challenges, Indonesian President Joko Widodo said Indonesia hopes that the G20 summit can be a catalyst for inclusive global economic recovery when addressing the opening ceremony.
"We are living in a world, where the future is shared and no country can live on its own," Drajat told GDToday reporter. In his opinion, global economy must be carried out by encouraging investment and increasing global trade flows.
As a member state of the Association of Southeast Asian Nations (ASEAN), on August 30, Indonesia's Parliament completed the Regional Comprehensive Economic Partnership (RCEP) ratification process. The RCEP countries have almost 30 percent of the world's population.
"Indonesia supports open economy and free trade mechanism, with the largest market in Southeast Asia," Drajat said, While China, including Guangdong, is the largest market in the world." He believes intensified economic and trade relations between Indonesia and Guangdong will be further enhanced under the framework of RCEP.
The Jakarta-Bandung High-Speed Railway trial operation coincides with the summit. With a design speed of 350 km per hour, the railway built with Chinese technology will cut the journey between Jakarta and Bandung from more than 3 hours to around 40 minutes.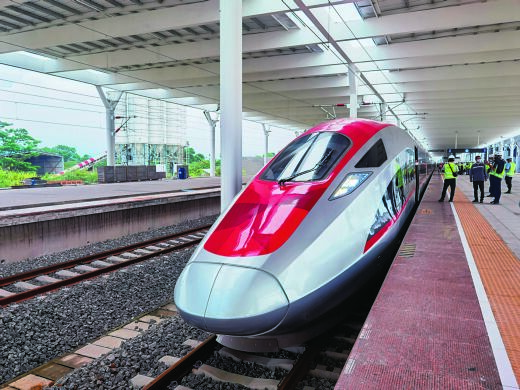 The Chinese-made Electric Multiple Units departed from the Tegalluar Station in Indonesia's Bandung on November 9, marking the hot-running test of the catenary system of the Jakarta-Bandung High-Speed Railway (HSR) trial section. (Photo: Xinhua)
"This project is an important milestone and serves as a form of friendship and comprehensive strategic partnership for both countries. For Indonesia, the project will not only modernize transportation means, but also stimulate the development of rural areas," he furthered.
Drajat said that President Joko Widodo has conveyed his hope that the high-speed railway project should be continued further to reach Surabaya in East Java.
Next year marks the 10th anniversary of the Belt and Road Initiative (BRI). He stressed, Indonesia will continue to cooperate with China concerning the BRI. Through the cooperation, Indonesia will continue to improve its connectivity in infrastructure construction, such as airports, ports, roads, bridges and power stations.
From his points of view, as one of the national development priorities, infrastructure development is an important driving factor and connectivity provides great benefits to the national economy and stimulates regional development.
Fruitful results of bilateral cooperation can also be found in the development of techno park in Bali, and industrial park in West Java and Central Java.
Drajat said, "Synergy of Indonesia and China has been manifested through a a Memorandum of Understanding (MoU) signed in 2018, with regard to promoting Indonesia's Global Maritime Fulcrum and China's BRI. Two countries are committed to working together to develop four economic corridors in Indonesia and other various strategic infrastructures."
GBA important in promoting China's economy and global partnership
Drajat took his post of Consul General of Indonesia in Guangzhou in February 2022.
It was the first time for him to come to Guangdong and also to China. He has a very good impression of this province as he has had chance to explore Guangzhou and visit other Guangdong cities, such as Shenzhen, Zhuhai and Foshan.
Speaking of his impression, he said, "Guangdong is a progressive province. Development can be seen everywhere. It is no wonder that this province become the nation's powerhouse. Guangdong is also inherent with rich Lingnan culture and beautiful nature."
As one of the main gateways of bilateral trade between Indonesia and China, approximately 17 percent of trade flow between the two countries (accounts for 11.85 billion USD) is going through Guangdong during the first half of 2022, according to Drajat. Until September this year, the bilateral trade value between Indonesia and Guangdong exceeded 17.5 billion USD, up 3.3 percent year-on-year.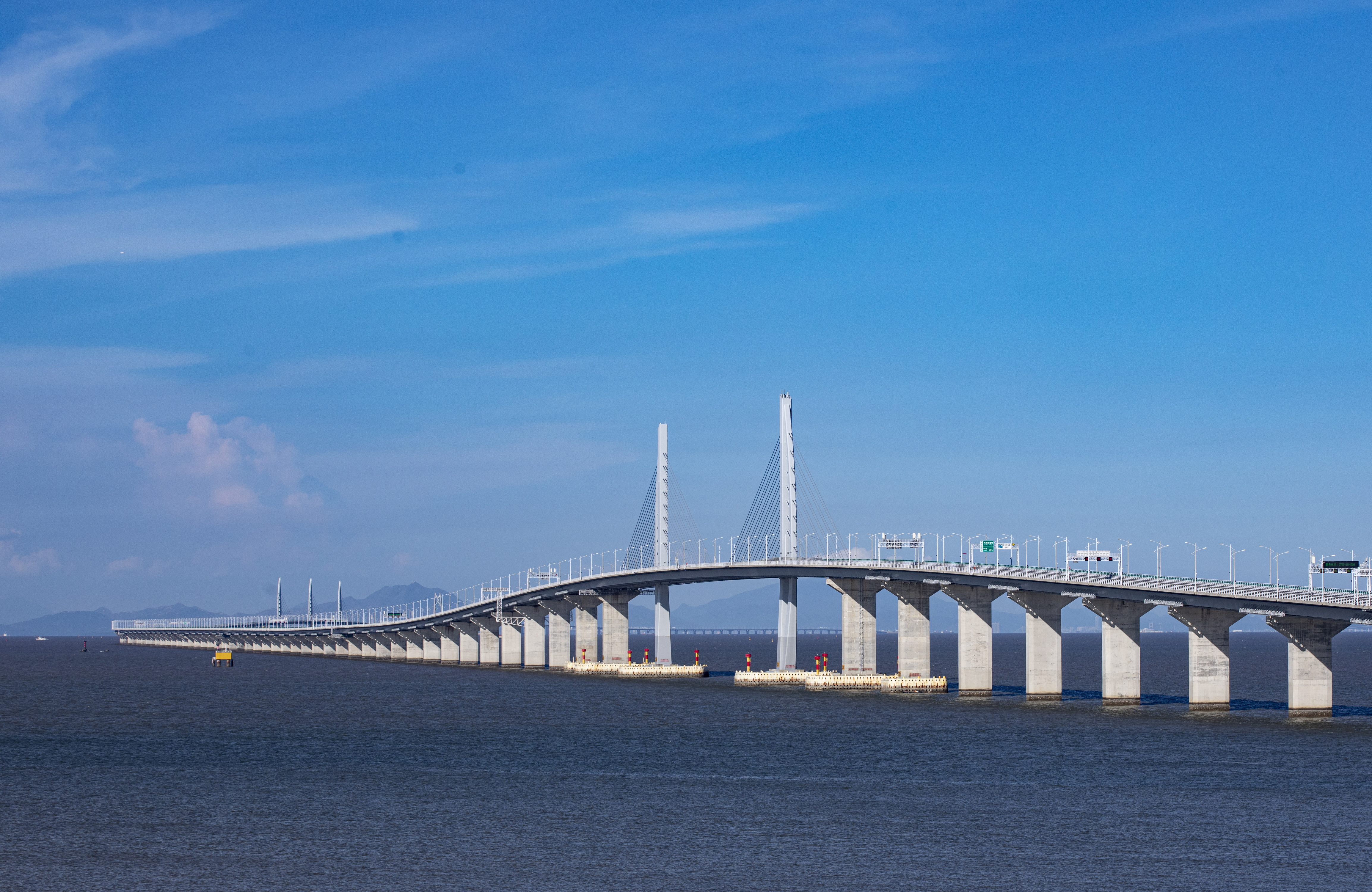 The Hong Kong-Zhuhai-Macao Bridge. (Photo: Nanfang Daily)
Guangdong Province is in full swing to build the Guangdong-Hong Kong-Macao Greater Bay Area (GBA), and in his view, developing GBA is not only important in promoting China's economy and global partnership, but also provides opportunities for Indonesia to strengthen cooperation with China.
In 2021, the GBA is host to 25 large Chinese companies that are included in the Fortune Global 500 list. "This is a big opportunity. Moreover, many business people from the Area have shown their interest in Indonesia," Drajat noted.
In September, Guangzhou's Nansha District signed a MoU on economic and trade cooperation with the Indonesian Chamber of Commerce in China during the China-ASEAN Expo in Nanning, Guangxi Province.
He expects that it will not only strengthen the relationship between two sides, but in a larger scope help Indonesian local entrepreneurs entering the Chinese market and promote Nansha in becoming the hub for importing ASEAN commodities in the GBA.
Indonesia and Guangdong have established a strong relationship for years and the two sides continue to explore further potentials in trade and investment despite the pandemic. He hopes that once the pandemic is over, more Guangdong residents will look for vacation heaven in Indonesia and the two places will work together again to tap more potential in tourism sector.
Author | Hannah
Poster |Lulu
Editor | Wing, Steven, Jasmine, Jerry
With help from Riz Zhang (intern).