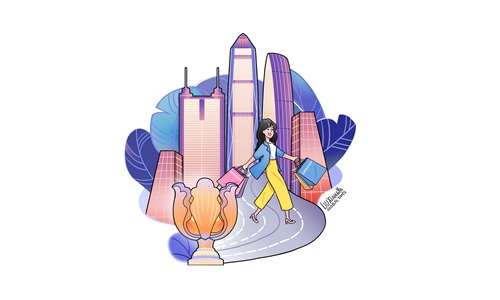 Illustration: Liu Xiangya/Global Times
Famous as a shopping paradise, the city of Hong Kong used to be one of the top shopping destinations for Chinese mainlanders in the past decades. However, a reversing trend has been seen in recent months as an influx of Hong Kong people are opting to dine, shop and spend their weekends in the neighboring city of Shenzhen, South China's Guangdong Province.
About 50 kilometers away, or an hour's subway ride, from Hong Kong, Shenzhen has seen a surging number of Hong Kong visitors in recent months.
According to the Immigration Department of the Hong Kong Special Administrative Region, from July 1 to August 29, Hong Kong residents made more than 9 million trips to Shenzhen. Considering the population of Hong Kongis 7.3 million, this means that during this summer vacation, Hong Kong residents entered Shenzhen 1.2 times on average. Additionally, Hong Kong residents made more than 22.45 million trips to Shenzhen from March to August, an average of about 900,000 trips every week.
Observers pointed out that the trend indicates the accelerated and deep integration of the consumption, living, cultural and business circles of Guangdong and Hong Kong.
Cross-border consumption is not only expanding domestic demand, but also accelerating the interconnectivity of the Guangdong-Hong Kong-Macao Greater Bay Area. The "one-hour living circle" in Hong Kong and Shenzhen has become a reality, analysts said.
During the weekends or holidays, nearly half of the crowds at Shenzhen's night markets and restaurants are visitors from Hong Kong. Posts about Hongkongers "occupying" and "crowding" Shenzhen malls have popped up on Chinese social media platform Xiaohongshu.
"It takes one hour by subway to go from Hong Kong to Shenzhen. I can go to Shenzhen for dinner after work on Friday and come back to Hong Kong the same night," said a Hong Kong resident Wu Junjie.
Consumption is not only confined to dinning. For Hong Kong people who love culture and art, "going north" to visit museums, bookstores and watch movies is also preferable. Shenzhen's bookstores are known for their innovative layouts, complete categories and large number of books. More Hongkongers are also happy to go to Shenzhen to watch Chinese mainland movies.
A recent survey conducted by Jones Lang LaSalle Incorporated, a global real estate services company, found that going to Shenzhen for shopping, dining, or leisure has become the new normal for young Hong Kong residents.
The underlying reasons behind this trend are mainly reflected in the deep integration of economic and trade exchanges between Shenzhen and Hong Kong, cross-city consumption and lifestyles.
Since the mainland-Hong Kong border fully reopened on February 6, there have been increasingly exchanges between the two cities.
Hong Kong residents say that the main pull for them to spend in Shenzhen include lower prices, a wider variety of choices and better services. Convenient transport connectivity has also enticed many Hongkongers to go on trips during weekends.
In January, Shenzhen and Hong Kong implemented mutual recognition of subway networks using QR codes, further facilitating the travel of people in both places.
Liang Haiming, an expert on the Hong Kong economy and chairman of the China Silk Road iValley Research Institute, told the Global Times that increased travel to Shenzhen helps Hong Kong residents better understand the Chinese mainland.
"The cultures in Hong Kong and mainland share the same origins and many Hong Kong residents have ancestral roots in the mainland. For young people in Hong Kong, tasting the variety of mainland cuisine is a step in getting to know the mainland's culture, including its rich gastronomy," said Liang.
Wu Daiqi, CEO of the Shenzhen-based Keythink Culture Communication Company, said that some relatively backward industries in Hong Kong will also improve with the commercial and cultural integration of Shenzhen and Hong Kong, such as online shopping, takeout delivery and prepared dishes.
With deepening integration, many mainland brands will gradually become the top choice of Hong Kong people and the Hong Kong market will drive the development of domestic brands, Wu said.
Observers said that the information gap between the mainland and Hong Kong has gradually narrowed, allowing more Hong Kong people to have a new understanding of the mainland and generate interest in exploring more mainland cities.