Representatives from 10 schools in Zhuhai, Guangdong Province, and Heihe, Heilongjiang Province, along with representatives from the Russian cities of Blagoveshchensk, Nizhni Novgorod, and Yuzhno-Sakhalinsk gathered online for the 9th Sino-Russia Principals' Forum on psychological health education on Nov 28.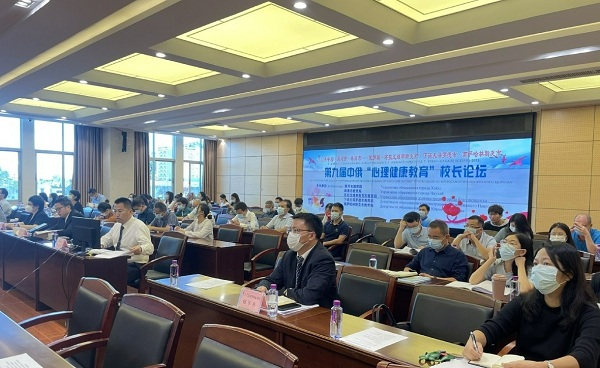 On-site sub-venue of the 9th Sino-Russia Principals' Forum on psychological health education in Zhuhai[Photo courtesy Zhuhai Daily]
Pressing issues such as the development, exchange, and improvement of psychological health education were discussed during the forum.
He Junxiang, principal of Jing'an Town's No 2 Primary School in Doumen district, said that several of the education concepts brought up by Russian principals such as building a healthy and comfortable campus and focusing on campus security are very similar with those of Zhuhai schools.
Li Liguo, vice principal of Zhuhai Experimental Middle School, noted that local schools can learn from their Russian counterparts. For example, Russia integrates art education with psychological health education. They also encourage students to be closer to nature and focus on building an open education environment.
Xi Enmin, director of Zhuhai Education Bureau, said that Zhuhai has been attaching great importance to the cooperation and exchanges in education. Through events such as the Sino-Russia Principals' Forum, both countries can further their cooperation and share tactics to benefit their students.
The Sino-Russia Principals' Forum, initiated by Heihe and Blagoveshchensk in 2014, has now become a brand event for Sino-Russia education and culture exchanges, probing into topics such as mental and physical health and after-school education.