In the first three quarters of 2023, Guangdong's economy showed a trend of sustainable development, with main economic indicators increasing steadily. During this period, the province's gross domestic product (GDP) reached 9.616 trillion RMB, up 4.5 percent year-on-year, data from the Bureau of Statistics of Guangdong Province showed on October 23.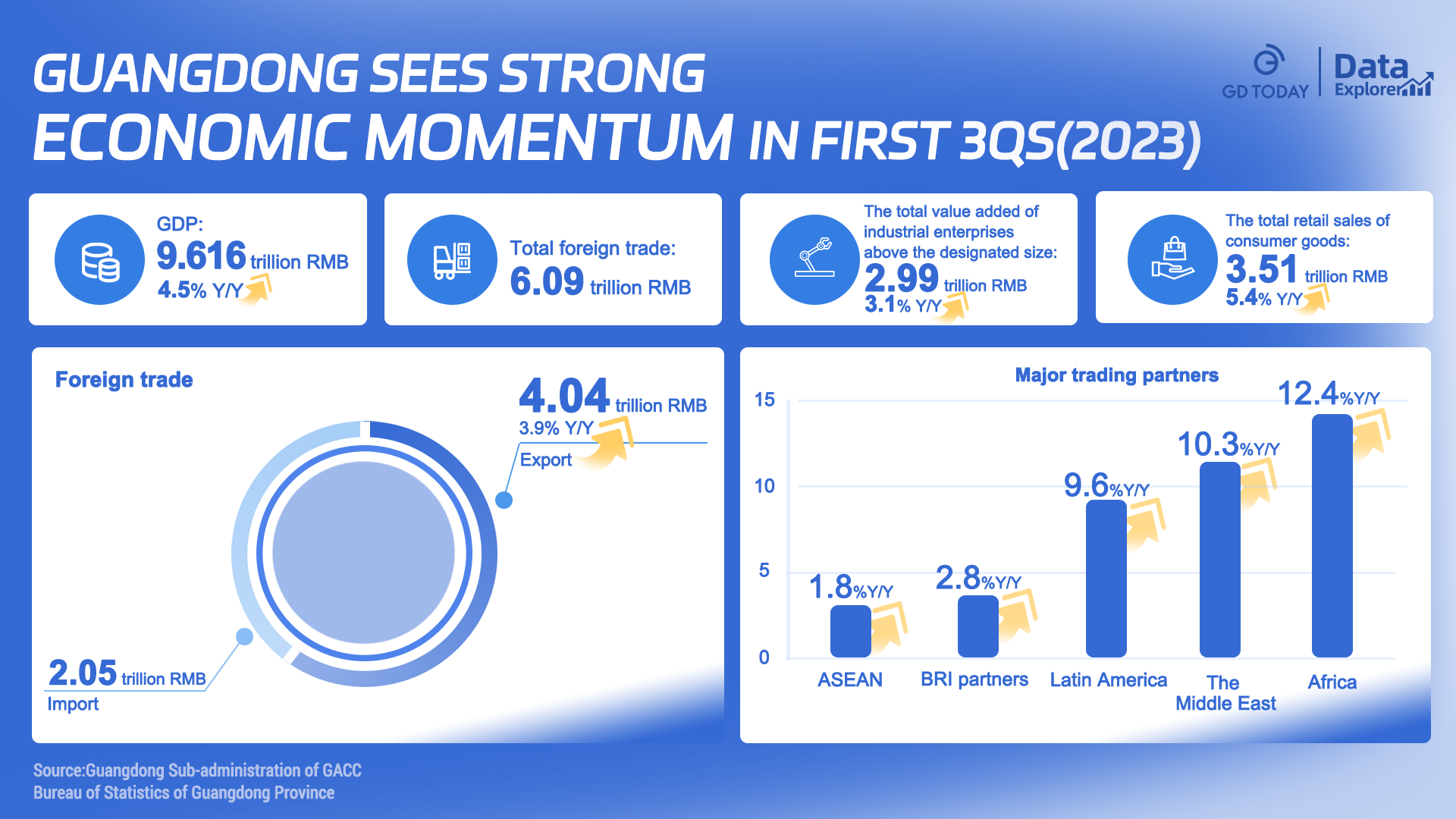 At the same time, the total value of Guangdong's foreign import and export reached 6.09 trillion RMB, with the export value being 4.04 trillion RMB, up 3.9 percent, according to the statistics released by the Guangdong Sub-administration of GACC on October 19.
Among them, the total value added of industrial enterprises above the designated size numbered 2.99 trillion RMB, an increase of 3.1% year-on-year. In the field of advanced manufacturing, the output of new energy vehicles, integrated circuits, optoelectronic devices and solar cells increased by 91.8 percent, 17 percent, 15 percent and 10.7 percent, respectively.
As for the service industry, the first three quarters saw the celebration of the Labor Day, summer vacation, Mid-Autumn Festival and National Day holidays, which stimulated the flourishing development of the service industry, especially the catering, tourism and entertainment industries. Therefore, the value added of the service industry during this period increased by 4.8 percent, with the total retail sales of consumer goods increasing by 5.4 percent year-on-year to 3.51 trillion RMB.
Furthermore, during this period, great potential could still be seen in the emerging markets. The ASEAN countries still served as Guangdong's largest trading partners, with import and export values increasing by 1.8 percent. Also, the trade with Belt and Road Initiative (BRI) partner countries increased by 2.8 percent, Latin America by 9.6 percent, the Middle East by 10.3 percent, and Africa by 12.4 percent.
In the following period, Guangdong will continue to optimise its economic structure, scale in international trade, and import and export productivity.
Reporter | Nancy Ye, Rina (Intern)
Poster | Lu Lu
Editor | Olivia, Nan, Will, James
Data from the Bureau of Statistics of Guangdong Province and Guangdong Sub-administration of GACC