As a developed area with an open economy in China, the Guangdong-Hong Kong-Macao Greater Bay Area (GBA) can increase consumer demand by expanding imports, said Mao Yanhua, a professor at the Institute of Guangdong, Hong Kong and Macao Development Studies of Sun Yat-Sen University. He suggested the GBA to seek for higher level of opening-up and focus on high quality imports.
Mao Yanhua, a professor at the Institute of Guangdong, Hong Kong and Macao Development Studies of Sun Yat-Sen University. (Photo provided to GDToday)
The establishment of a market-oriented, law-based and internationalized business environment is crucial to attract top global resources to the GBA. Mao thinks that a high standard business environment will be a highlight of the GBA's opening-up, and it should further promote the opening of rules, connect with the international market rule system, and implement "Foreign Investment Laws" during the 14th Five Year Plan period (2021-2025).
Due to the Covid-19 pandemic, globalization has suffered some frustration, but the world economy still needs opening and cooperation in the long run. It also brings challenges and opportunities for the GBA, which should build high-quality supply and consumption system to meet the new needs of people in the country.
GBA has made great progress in many sectors
According to Mao, the biggest difference between the GBA and other international bay areas is "one country, two systems", that has brought difficulties for the integration of Guangdong, Hong Kong and Macao.
However, in recent years the connectivity of GBA cities has been enhanced, "I think the GBA has made great progress in many sectors especially in people's livelihood," said Mao.
For instance, the country has launched many measures for supporting Hong Kong, Macao youths to start businesses on the Chinese mainland, and the latest-released policy allows Hong Kong-listed medical devices and drugs to be sold to Hong Kong-owned medical institutions within the GBA.
As for school running, now Hong Kong and Macao universities can open their own campuses on the Chinese mainland,in cities of the GBA after signing agreements with local governments.
To promote joint-development of markets in Guangdong, Hong Kong and Macao in the future, Chinese mainland should deepen reform in key areas, and accelerate institutional innovation in allocation of capital, talent, technology, intellectual property and so on.
Service industries of Hong Kong, Macao can win more opportunities in Chinese mainland
On November 15th, 2020, the regional pact (RCEP) was signed between China and 14 Asia-Pacific nations, it is the largest free trade agreement in the world. The RCEP will benefit Hong Kong and Macao, two important free trade ports in the world, which also act as "super connectors" between Chinese mainland and global markets.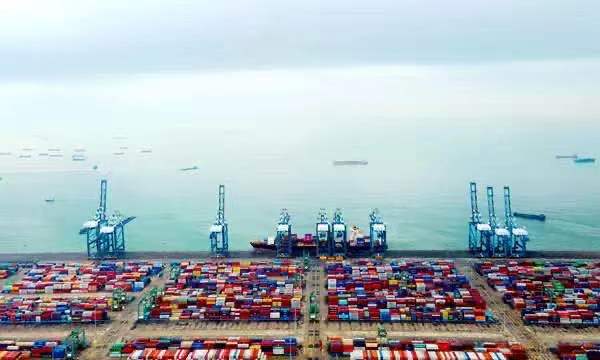 (Nansha Port, photo provided to GDToday)
RCEP will bring significant opportunity for Hong Kong and Macao to further participate in the development of the Chinese mainland. "As for the RCEP opening mechanism, the opening of China's service industry will reach a new height, that enables countries with strong service trade competitiveness such as Singapore, Japan and South Korea, to more easily access the Chinese mainland market. But Hong Kong and Macao can win more opportunities in service sectors since they entered the market earlier," he said.
Mao also praised Hong Kong's modern service industry, which meets the international standard with a high degree of openness and government service transparency. Hence, Hong Kong together with Macao it is hoped can act as a bridge to link Chinese mainland enterprises and foreign investors.
Schedule planner: Tang Lina
Planners: He Jingwen, Men Lili, Zhang Ying
Reporters: Lou Xiaoxi, Li Miaojuan, Zhan Haishan
English version: Will
English editors: Nan, Jerry