Guangzhou aims to become an international transportation hub and a global logistics center by 2025, according to the city's newly-released 14th five-year plan for transportation.
The plan states that by the end of the 14th five-year period (2021-2025), Guangzhou's annual air passenger throughput is expected to reach 100 million persons, annual cargo handling capacity of Guangzhou Port will be increased to 6.8 billion tons and the passenger transportation volume will have grown to 160 million person-trips.
In terms of aviation, Guangzhou will focus on enhancing the international competitiveness of the Baiyun Airport. The specific targets include building two more runways, a new terminal (Terminal 3), and comprehensive transportation centers. By 2025, Baiyun Airport will be equipped with 5 runways and 3 terminals.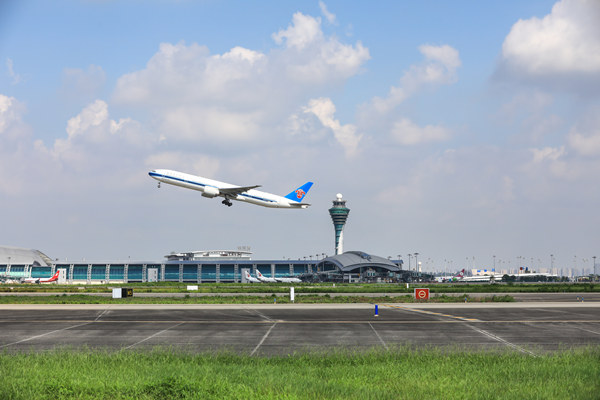 (File photo)
More convenient access to the airport are listed in the plan. Guangzhou-Shenzhen Intercity Railway and Guangzhou-Foshan Circle Line will go through the airport with stations setting up at all 3 terminals. Furthermore, Terminal 3 will be linked to Guangzhou-Zhuhai (Macao) High-speed Railway and Guangzhou-Heyuan High-speed Railway. In the future, it will take only 30 minutes from the airport to the city downtown, 1 hour to other cities in the Pearl River Delta, and 3 hours to cities in the Pan-Pearl River Delta.
The city is also planning to build new airports in Nansha, Huangpu and Conghua, thus creating a world-class airport cluster in the Guangdong-Hong Kong-Macao Greater Bay area.
The improvement of the railway network is also one of the focuses. As stated in the plan, there will 10 rail lines linking Guangzhou with other provinces. More new arteries will connect Guangzhou with cities in the Greater Bay Area in a 2-hour trip. High-speed rail will also be introduced to the downtown in 2024.
As for metro network, the construction of 12 metro lines will be promoted so that the city's total metro mileage will reach over 860 kilometers. 9 new lines are being planned.

Author | Abby, Jerry (intern)
Editor | Nan, Jerry