"Canton Fair is a closely-watched barometer of China's foreign trade. And it is held in Guangzhou, a city with annual GDP up to trillions of RMB, which means this city will catch more and more global eyes." said Peter Helis, Chief Advisor of Guangzhou Development District Investment Promotion Bureau in a story-sharing event held on October 17.
Themed "My Canton Fair Stories", the event invited global friends to tell their stories with China's oldest and largest trade fair.
Canton Fair reflects the steady growth of China's economy
Liu Weining, Chairman of the representative office of the Russian Association of Asian industrial entrepreneurs in China and Consultant of China-Ukraine (Huangpu) International Institute of Research and Innovation, joined Canton Fair in 2006 for the first time and has witnessed how it developed into a worldwide gala for global traders.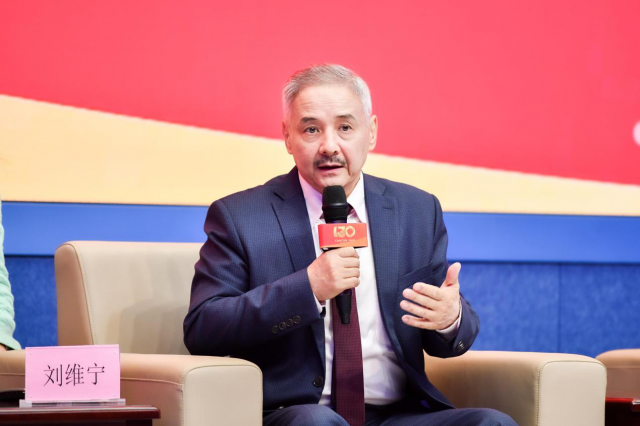 Liu Weining (Photo provided to newsgd.com)
"This year's Canton Fair is the first held online and offline, which not only boosts confidence for world partners but also offers a platform for broadcasting China's stories and promoting understandings. And I have noticed that increasing companies tend to focus more on China's market, echoing with the trend of dual circulation, in which domestic and overseas markets reinforce each other," Liu shared his observations.
Ramon Sitjas Montaner, representative of Spanish entrepreneurs, majored in International Trade in Spain. Having studied a lot about world industrial revolution, he said, "The rapid development of China is unprecedented and beyond everyone's expectation. And the steady growth of China's economy gives much confidence to international community."
"It's such a coincidence that the first time I came to Guangzhou from Spain was in 2003 when SARS hit China. And strict anti-pandemic measures were deployed, exactly the same as what we're facing today. But the management and anti-epidemic methods are more intelligent than old days and the combination of online and offline offers more opportunities for people around the world."
"The products from China will never disappoint you"
Speaking Mandarin, Cantonese, English and French, Maximus Ogbonna is the Chairman of Nigerian Chamber of Commerce in China.
"I have a friend from the USA, who always tell me that 'Made in China' is such a golden label that the products from China will never disappoint you. That's why almost every country has to do business with China."
Peter Helis (Photo provided to newsgd.com)
"China was a major export-oriented country dozens of years ago. However, it has evolved into a country featuring with import since the outbreak of global financial crisis in 2008, with overall exports on the decrease while imports climb". Having witnessed great changes in China by himself, Peter Helis shared his insight into business trend in the nation.
"Canton Fair totally changed my career"
Bekar Mikaberidze, the Founder of One Belt One Road Georgian Business House, came to Guangzhou after finishing his bachelor's and master's degree in Tianjin. "I was still a student when the first time I visited Canton Fair in 2006. I was astonished to see so many products and opportunities in such a big event. This visiting totally changed my life, because I decided to stay in China to develop my business here after that. And now it is proved that I made a right decision."
Giselle Bonet (Photo provided to newsgd.com)
Giselle Bonet, representative of Venezuela Chamber of Commerce and Director of Pinchili China Service Limited, has joined 16 Canton Fairs. She said, "Canton Fair serves as a global window, through which worldwide suppliers and customers gathered to exchange business opportunities. And there's still numerous opportunities awaiting us ahead."
During the event, Hu Nan, the Deputy Section Chief of GDToday & Newsgd.com, Nanfang Media Group, also shared her stories of reporting Canton Fair. According to Hu, GDToday has a newsletter called Guangdong Updates for global buyers and exhibitors during the Fair, which provides them a lot of convenience.
"We will devote more to act as a bridge for foreign friends to know more about Guangdong and China," Hu added.
This event was hosted by Information Office of Guangzhou Municipal People's Government and GDToday & Newsgd.com of Nanfang Media Group, and guided by China Foreign Trade Center.
Reporter| Rofel
Editor| Wing, Keane, Jerry
Video| Chen Weifeng, Huang Yiping