04/01/2020 Source: Chinadaily.com.cn
Extended cooperation with Macao is a paramount factor among 46 tasks outlined to be taken this year in the recently released 2020 Work Highlights of Zhuhai to Deepen Reforms in an All-Round Way.
A new pattern of Zhuhai-Macao coordinated development will center on technological innovation, finance, healthcare, cross-border trade, culture, tourism and exhibitions as well as other professional services. The cooperation will expand from economic to social and cultural aspects with projects such as the Macao New Neighborhood.
In addition, Hengqin New Area, a bridgehead of Zhuhai-Macao cooperation, will promote innovative, pioneering, and practical reform in institutional innovation, optimized business environment, industrial development, urban construction, and improved livelihood.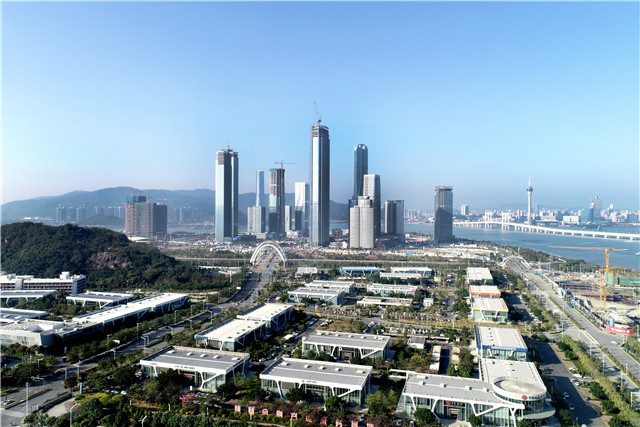 A glimpse of Hengqin New Area. [File photo\Nanfang Daily]
Growth of the Demonstration Zone of Deepened Guangdong-Hong Kong-Macao Cooperation will increase the mutual benefits of joint consultation, contribution, and management. Macao's international free port systems and policies will be extended to Hengqin, including a sophisticated negative list for market access, hierarchical management policies, and cross-border taxation services.
Moreover, weak links exposed during the COVID-19 pandemic will be reinforced. Zhuhai will augment public health services under the rule of law, tighten food and drug safety, and supplement systems for prevention, control, treatment, emergency response, medical insurance and assistance, and unified emergency material supplies and reserves in the event of more major epidemic outbreaks.
Beyond public health, prevention and control systems and emergency actions in event of biological, production, environmental, and societal safety, and natural disasters will also be improved.
Last but not least, Zhuhai will also reform administrative systems, the business environment, sci-tech innovation, state-owned enterprises, public institutions, legislation innovation, livelihoods, social governance, rural affairs, and interactive development of the Guangdong-Hong Kong-Macao Greater Bay Area.