Construction has resumed at all 267 government-invested and other provincial and municipal key projects in Zhuhai expect one kept in reserve to house anti-epidemic medical staff, the Development & Reform Bureau announced at a March 23 on-site press conference.
Underway again, for instance, are Chimelong International Ocean Resort Phase II, new Hengqin Checkpoint & Comprehensive Transport Hub, Shizimen Central Business District, Xianghai and Honghe bridges, and Hezhou-Gaolan Port Expressway.
Moreover, work on 83 projects – 21 more than planned, including the Shimao Hong Kong-Zhuhai-Macao Cooperation & Innovation (Zhuhai) Base and Hengqin Science City – had been commenced in the first quarter with total investment of 38 billion yuan ($5.4 billion).
The Municipal People's Government recently issued 20 measures covering investment, manufacture, increased consumption, financial support, recruitment, and employment, and backed them with more than 2 billion yuan ($283 million) to ensure key projects are at least half completed by midyear.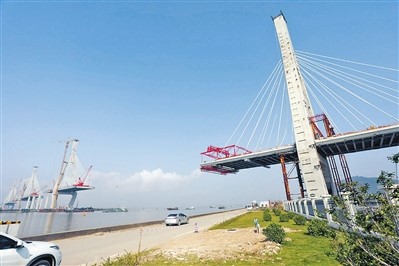 Honghe Bridge spanning the Modaomen Waterway[Photo by Zhong Fan / Zhuhai Daily]
Under the policies, some 1,200 workers at the Honghe Bridge each receive a work-resumption subsidy of 1,000 yuan ($141).
The crews will proceed with a batch of steel box girders that arrived on Tuesday from Wuhan-based Wuchang Shipbuilding Industry Group. The construction will be expedited with the arrival of more raw materials.
Eighty-five percent of the project investment has so far been spent. Both ends of the bridge are expected to meet in June so that the span can open before the 13th China International Aviation & Aerospace Exhibition (Airshow China) in November, said Lin Quanfu, general manager of Honghe Bridge Co.
Costing 4 billion yuan ($566 million), the 9.65-km (6-mile) bridge starts at the Hongwan Interchange in Nanping Town, and runs westwards to span the Hongwan and Modaomen waterways, arriving at the South Hezhou Reclamation Area in Jinwan District.
The dual six-lane structure, designed with a speed limit of 100 kmph (62 mph), will join the Xianghai and Jinhai bridges as a pivotal connection between Zhuhai's East and West wings. From Hongwan Interchange, locals can reach Zhuhai (Jinwan) Airport in 20 minutes via the Honghe Bridge and Hezhou-Gaolan Port Expressway.