More supportive measures backed with 2 billion yuan ($283 million) in aid have been taken by the city government to help the economy recover from the corona virus disease (COVID-19) outbreak.
The measures cover investment, manufacturing, increased consumption, financial support, recruitment, and employment. They supplement Zhuhai's policy titled Implementation Opinion of Effectively Lowering Epidemic Impacts & Promoting Economic Stability that issued on March 11.
To help projects get back on schedule, applications night-time construction permits will be simplified, and traffic controls relaxed for construction vehicles. Construction workers without local social insurance are made eligible for recruitment subsidies. A one-time subsidy of 1,000 yuan ($141) will be offered to builders verified by the Real-Name System.
Government-invested projects that fulfill their tasks will be granted 3 to 5 percent of their contractor management fees to a limit of 2 million yuan ($282,890). Through late June, payments will be made twice rather than once monthly and at 85 rather than 80 percent for projects invested by the municipal government and State-owned enterprises.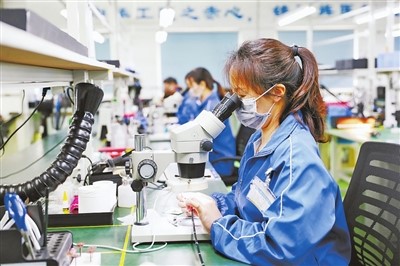 Zhuhai Seesheen Medical Technology at Nanping Science & Technology Industrial Park has resumed operations [Photo by Wu Changfu / Zhuhai Daily]
In the manufacturing sector, enterprises above designated size with a growth of 10 to 15 percent will see their subsidy rise from 100,000 yuan ($14,145) to 200,000 yuan ($28,289), while that for enterprises with growth of over 15 percent will go from 200,000 to 300,000 yuan ($42,434).
More than 120 industrial enterprises above designated size and over 10 benchmark Industrial Internet application enterprises are to be cultivated this year, while 300 larger industrial firms will be urged to complete technical transformation.
A one-time award of up to 500,000 yuan ($70,723) will be granted to heads of projects that have completed plant construction and purchased more than 5 million yuan ($707,234) (tax not included) of in-production equipment between Feb 1 and June 30. The expenditure should be included in 2020 industrial investment statistics.
Enterprises will be subsidized an extra 500 yuan ($71) per month for each recruitment of a local resident otherwise facing employment difficulties. Human resources agencies and labor service workstations will be given 1,000 yuan for introducing each out-of-city worker in March. Each key laborer sent by schools or introduced by enterprises will attract a monthly subsidy of 1,000 yuan before late June to a limit of 2,000 yuan ($283).
Meanwhile, labor service workstations will be set up, more out-of-city job fairs held, and workers returned using chartered buses, bullet trains, and subsidies.
In terms of financial support, a specialized 100-million-yuan ($14-million) will subsidize medium, small, and micro-sized enterprises in loan interest, bill discounts, and refinancing. Financial institutions, micro-loan, financing guarantee, and insurance companies are also encouraged to help.
A one-time award of 200,000 yuan is available for commercial and trade enterprises with a year-on-year increase of 50 million ($7 million) to 100 million yuan in turnover. Those with an increase of 100 million yuan or above will obtain 500,000 yuan for every 100 million yuan of increase.
Wholesale, retail, accommodation, and catering enterprises upgraded to above designated size for the first time will be awarded 20 percent of their annual tax payment shared by municipal and district governments.
An award of up to 2 million yuan will be granted to characterized pedestrian/food street renovation, while eligible merchants will be subsidized 20 percent of their annual night-time operation cost.
To drive up consumption, organizers and enterprises attending large auto exhibitions will be subsidized. Household appliance sales companies with annual turnover of over 500 million yuan ($71 million) and actively accepting trade-ins of old appliances for new ones will receive 200,000 yuan.
To attract investment, the award for paid-in registered capital of newly introduced manufacturing projects from January to September will rise 30 percent. Newly registered enterprises in 2019 and 2020 can apply for headquarters certification in 2021 with half of the required operating revenue and tax payment. Those certified as headquarters enterprises will garner up to 100 million yuan for any single project based on their regional fiscal contributions.