01/19/2020 Source: Chinadaily.com.cn
Spring Festival travelers are encouraged to tour the Hong Kong-Zhuhai-Macao Bridge (HZMB) and the soon-to-opened Bridge-Observation Rest Station and Meet the Bridge at Zhuhai Port.
A launch ceremony of the tour was held by HZMB Zhuhai Port Operation & Management and Guangdong-Hong Kong-Macao System Technology (Guangzhou) at HZMB Zhuhai Port on Jan 16.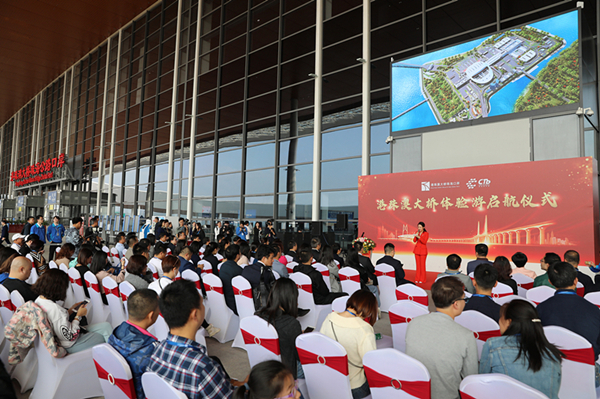 Bridge tour launch ceremony
After the ceremony, professional guides led the first group to HZMB Hong Kong Port via shuttle to view the marvel and observe the efficient custom clearance procedures.
The tour is intended to expose the HZMB allure to more people, and Zhuhai Port will keep innovating tourism content and formats for better service. For instance, the new Zhuhai Port Exhibition Hall and HZM Bridge Cultural Corridor are expected to open to the public by March or April.
Travel routes on offer include Zhuhai Port-HZMB-Hong Kong Port, Hong Kong Port-HZMB-Macao Port and Zhuhai Port/Macao Port-HZMB-Hong Kong Citygate Outlets/Ngong Ping 360. There is also a choose between one-way and return trips. Follow WeChat account hzmbzhport for the latest information and to sign up for tour groups or plan for independent travel.
Also at the forum, representatives of local and Guangdong tourism agencies and a dozen media outlets offered advice on the bridge's tourism development.