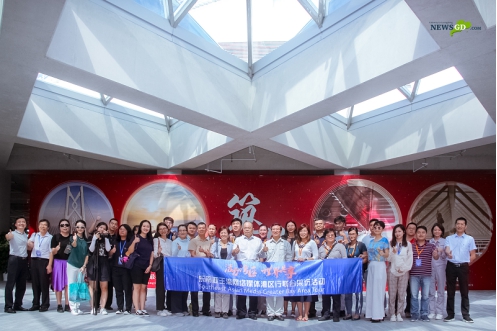 Journalists pose for a group photo on the Hong Kong-Zhuhai-Macao Bridge (HZMB). [Photo by Will]
A media delegation consisting of over 30 journalists, including a dozen from Southeast Asian countries, such as Indonesia, Malaysia, Singapore, Thailand and Vietnam, visited five Guangdong cities in the Guangdong-Hong Kong-Macao Greater Bay Area (GBA) between September 2nd and 6th to experience local culture and customs, and see for themselves the developmental and technological achievements of the Bay Area.
Grand projects connect the GBA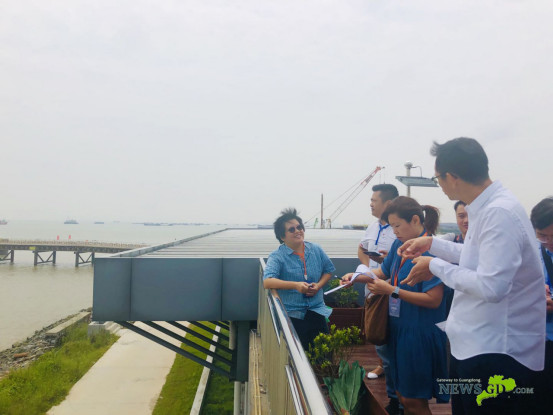 Journalists interview a staff member at the construction site of Shenzhen-Zhongshan Bridge. [Photo by Will]
In recent years, transportation in the GBA has developed into an efficient network featuring high-speed and inter-city railways, expressways, ports and airports.
By the end of 2022, a modern integrated transportation system will have come into being. A 'one-hour commuter ring' will have been built, with three routes (Hong Kong-Shenzhen, Guangzhou-Foshan, Macao-Zhuhai) at its core.
Nang Chian Ping, digital news editor of Kwong Wah Yit Poh Press Berhad, was impressed, "one can only sense the true scale and magnificence of these transit projects when on site."
Sun Jifei, vice editor in chief of Indonesia Shang Bao, speaks highly of the recently launched Hong Kong-Zhuhai-Macao Bridge (HZMB) tourism plan, "more people will be drawn to the region if the HZMB is included in the tourism resources of the three places."
A hotbed for innovation and entrepreneurship
Sun Jifei tries on an automatic skateboard at the E Hub in Shenzhen. [Photo by Will]
The GBA is a hotbed for young entrepreneurs to pursue their dreams. Thanks to the Guangzhou-Shenzhen-Hong Kong-Macao Sci-tech Innovation Corridor, the GBA is forging itself into a prime region for technological innovation.
"Shenzhen's development is marvellous. Its efficiency, achievements in innovation, creative spirit, pragmatism and energy are very impressive," Han Yonghong, vice editor chief of Lianhe Zaobao shared.
Sun Jifei praised a team of Hong Kong entrepreneurs for their 'automatic skateboard' noting its powerful functionality. He also tried out Tencent's new payment system. Sun said that Shenzhen's Qianhai, as part of the China (Guangdong) Pilot Free Trade Zone, enjoys favorable policies and capital support, very attractive to high-technology industry investors.
Tan Dawn Wei, the China Bureau Chief of The Straits Times, paid special attention to the young entrepreneurs from Hong Kong and Macao in Guangdong. She believes their stories exemplify the collaboration promoted by the GBA and will encourage more young people to start their businesses on the Chinese mainland.
Diverse cultures coexisting and prospering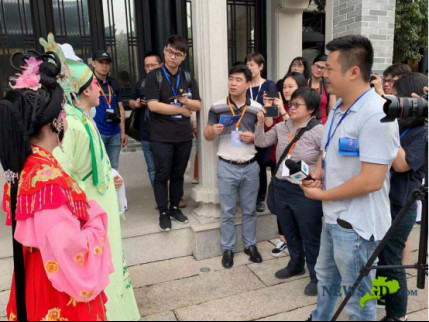 Journalists interview two Cantonese opera performers at the Cantonese Opera Art Museum in Guangzhou. [Photo by Will]
The GBA and Southeast Asia are neighbours, and people in both regions share similarities in terms of lifestyle and culture. Lingnan cultures such as Cantonese opera and acrobatics are very popular in Southeast Asian countries.
During the tour, the journalists visited Yongqingfang and the Cantonese Opera Art Museum in Guangzhou as well as Sun Yat-sen's former residence in Zhongshan.
Su Yi, director of the Chinese News Department of Sing Sian Yer Pao, said Thailand is one of the countries with the greatest number of overseas Chinese; in her country there are many guild halls of guilds originating from cities in Guangdong, and there they can enjoy Cantonese opera performances.
Tan Dawn Wei mentioned that Cantonese opera performances are staged at the Kreta Ayer People's Theatre in Singapore from time to time, attracting many curious eyes.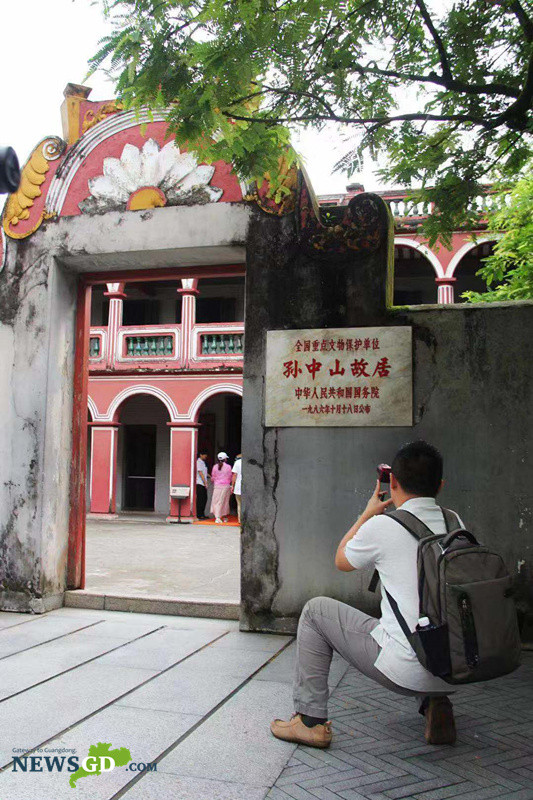 Nang Chian Ping takes photos of Sun Yat-sen's former residence in Zhongshan. [Photo by Will]
"Kwong Wah Yit Poh has close connections to Zhongshan. Sun Yat-sen founded the newspaper in 1910 in Penang, Malaysia, and we still adhere to Sun Yat-sen's philosophy 'the whole world as one community' serving the overseas Chinese community," said Mr. Nang Chian Ping after visiting Sun Yat-sen's former residence in Zhongshan, "I find that the city is full of vigor and has kept a balance between development and environmental protection."
Ben Yuen Hui, a reporter for The Star of Malaysia, also said that she was very interested in history and is familiar with many of Sun Yat-sen's stories.
Join hands to achieve win-win cooperation
To Le Minh is interviewed by the local media in Shenzhen. [Photo by Will]
The GBA will deepen its opening-up to the outside world. It will work together with Southeast Asia to achieve a better future and win-win results.
Tan Dawn Wei pointed out that the GBA's development will bring huge opportunities to neighbouring countries and regions, especially those in Southeast Asia. She hopes everyone can find a win-win outcome.
Nang Chian Ping hopes that through their newspaper, he can arm Malaysian people with information about GBA, so that they can grasp the opportunities therein to achieve, and achieve to mutual benefit.
To Le Minh, chief reporter for the Vietnam People's Newspaper's Beijing Permanent Office, told our reporter that he was amazed by Qianhai's development and believes this is a great example for his own country to follow.
Han Yonghong thinks that GBA is advancing the integrated development of technology, culture and people's livelihoods. Singapore, along with other countries and regions in Southeast Asia, is looking forward to cooperation with the region.