Shenzhen in Guangdong province will build a national logistics hub centered around Shenzhen Bao'an International Airport, according to the recently issued implementation plan for the construction of a nation-wide logistics hub network (2019-20) by the National Development and Reform Commission and the Ministry of Transport.
The building of the Shenzhen Bao'an International Airport National Logistics Hub can help promote the economic development and industrial upgrading in Shenzhen, as well as advance the construction of the Guangdong-Hong Kong-Macao Greater Bay Area.
A construction plan for the national logistics hub has been initially formed, according to the Shenzhen transportation bureau.
It will cover an area of 22.8 square kilometers and be composed of four functional areas: three freight transportation areas in the east, south, and north, as well as a flight area in the west.
A "3+1+1" industrial function system will also be formed at the logistics hub. The three core industries of air transport services, modern logistics service, as well as aviation science, technology, and cultural experience will see rapid development. In addition, the development of one supporting industry (life services) and one extended industry (airport high-tech industry) will also be boosted.
A number of expressways and railways through the edge of the logistics hub, as well as a road network made up of three expressways, three fast lanes, and eight trunk roads within the logistics hub will be built to support the hub's construction and development.
Following market-oriented principles, construction of the logistics hub is expected to be completed by 2030.
Bao'an district in Shenzhen, which is where Shenzhen Bao'an International Airport is located, realized a total transport turnover of 28.53 billion tonne-kilometers in 2018. The district's total volume of foreign trade reached 371.35 billion yuan ($53.97 billion), of which the gross export was 239.94 billion yuan.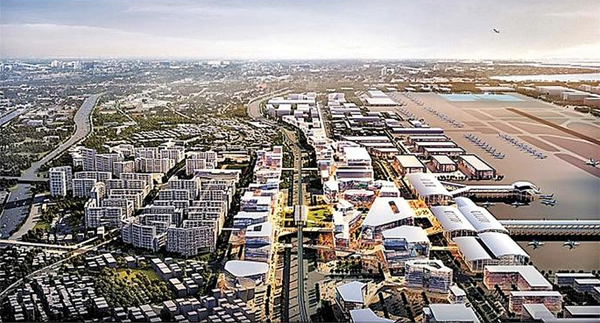 The design sketch shows a bird's eye view of the Shenzhen Bao'an International Airport National Logistics Hub in Guangdong province. [Photo/sznews.com]