04/28/2023 Source: newsgd.com
The area around the Jiulong Lake (环九龙湖片区) may become the CBD (Central Business District) of the Sino-Singapore Guangzhou Knowledge City, according to the China-Singapore Guangzhou Knowledge City High-quality Development Consultation Meeting on April 23.
Experts in urban planning and architects from China and Singapore discussed potential design plans for the area around the Lake, aiming to construct it into a place with a green environment suitable for residents' daily activities.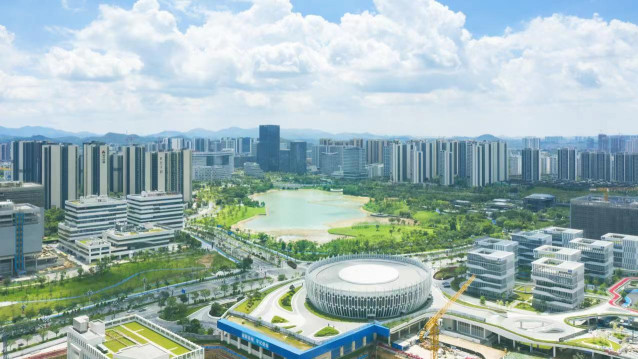 (The Sino-Singapore Guangzhou Knowledge City/Photo provided to GDToday)
Liu Thai Ker, Chairman of Singapore's Morrow Architects and Planners, participated in the planning and design of the Sino-Singapore Guangzhou Knowledge City 13 years ago. He was impressed by the rapid development in the region.
"Singapore has experience in constructing a garden city, such as the design of low-energy buildings, and I would like to share this with the Sino-Singapore Guangzhou Knowledge City," said Liu. He indicated that further enhancement of the living environment would help attract more investment from Singapore.
Li Xiaojiang, a Specially Invited Advisor of the China Council for International Cooperation on Environment and Development, noted that after more than ten years of construction, the urban functions and enterprises of the Knowledge City have largely developed, but the construction method still needs to be improved.
"We should not only enjoy the natural space but also provide the space for communication," Li suggested that more attention should be paid to the needs of all-ages people's daily life. He also emphasized the balance between protection and development, adding, "The development of villages and cities should form an organic whole."
He Jingtang, an Academician of the Chinese Academy of Engineering, said that the further construction of the Knowledge City should achieve the integration of human and nature, science and technology, and the humanities. He highlighted the issue of transportation should be taken into consideration.
According to Guangzhou's Huangpu government, the development area of the Knowledge City has grown from 8.08 square kilometres to 232 square kilometers since 2010. The area has developed an innovation capacity with 40 research platforms, nine research institutes, six graduate institutes, and 475 top projects at home and abroad.
Reporter丨Nina
Editor丨Wing, Nan, Monica, James